A Trip to Clementi Forest
Few have heard of Clementi Forest until recently, when an article from Mothership, together with a drone footage by Jonathan Teo went viral online. What was once a quiet unknown forest sitting in Bukit Timah quickly became a talking point among Singaporeans.
I first came across Clementi Forest after the Youtube account 'Just Keep Thinking' posted a video of them going through the terrain about 3 weeks ago. I was instantly intrigued. As more people feature their exploration trips into this uncharted terrain, I started to plan my own as well. 
On 9th December 2020, together with 2 other friends, we undertook a challenging expedition – exploring Clementi Forest. A challenging one it was indeed! Unlike the parks many of us are used to, there were no marked tracks – 'paths' were nothing more than muddy trails left behind by the recent explorers passing through the area (and exacerbated by the recent rains too!). It was definitely not an easy terrain to navigate, and having proper anti-slip gears and the right company are essential to ensuring one gets through the Forest safely (having one to tank the spider webs, and the other to hold your precious belongings haha!). 
It might come off as an irony but there was this thrill of walking through mud while taking in the sights of the forest – it was beautiful at every angle. My expedition crew and I quickly realised the articles on the Internet were not only true, but the reality was beyond our wildest imagination.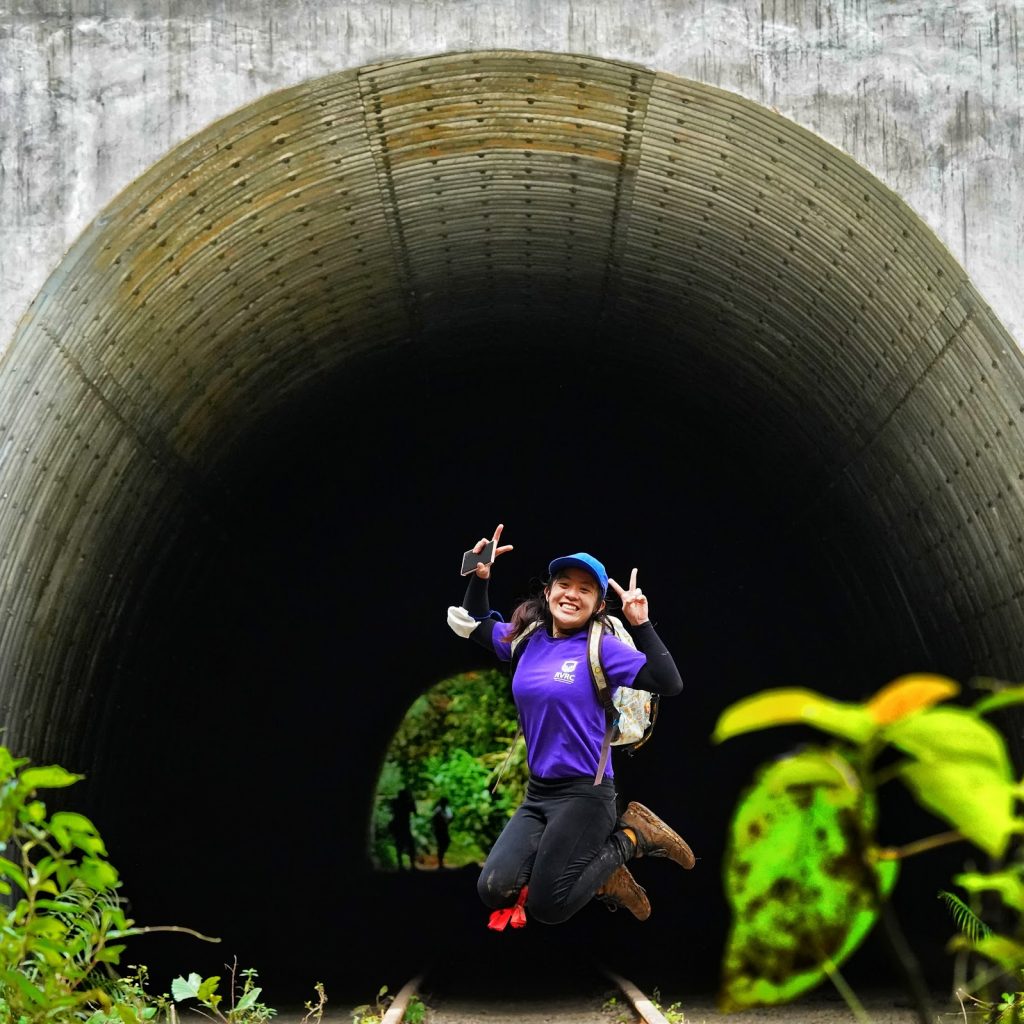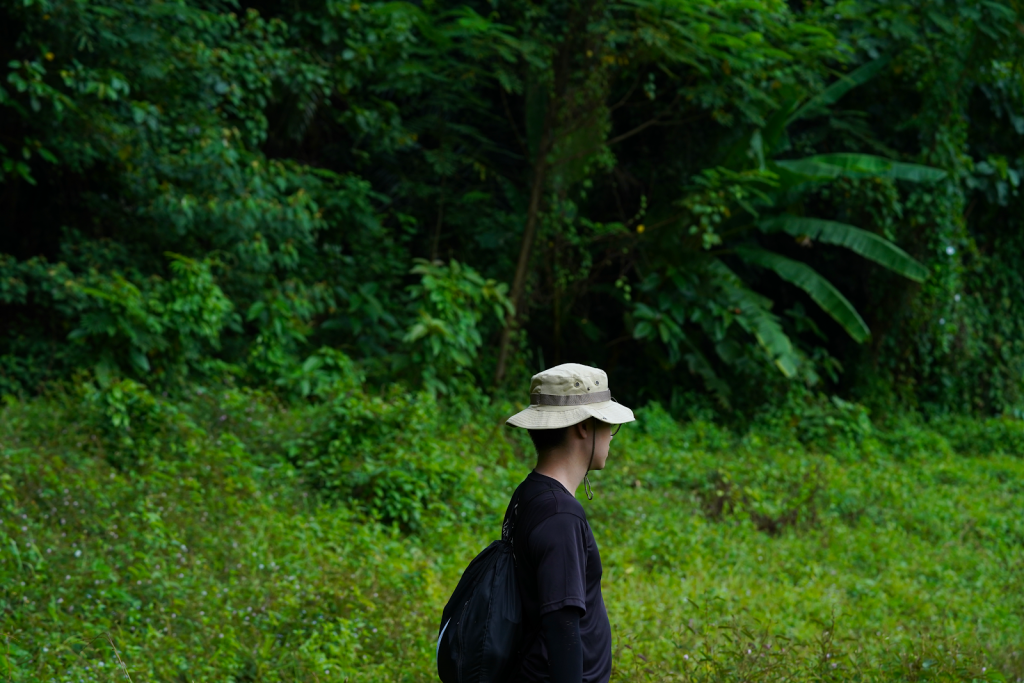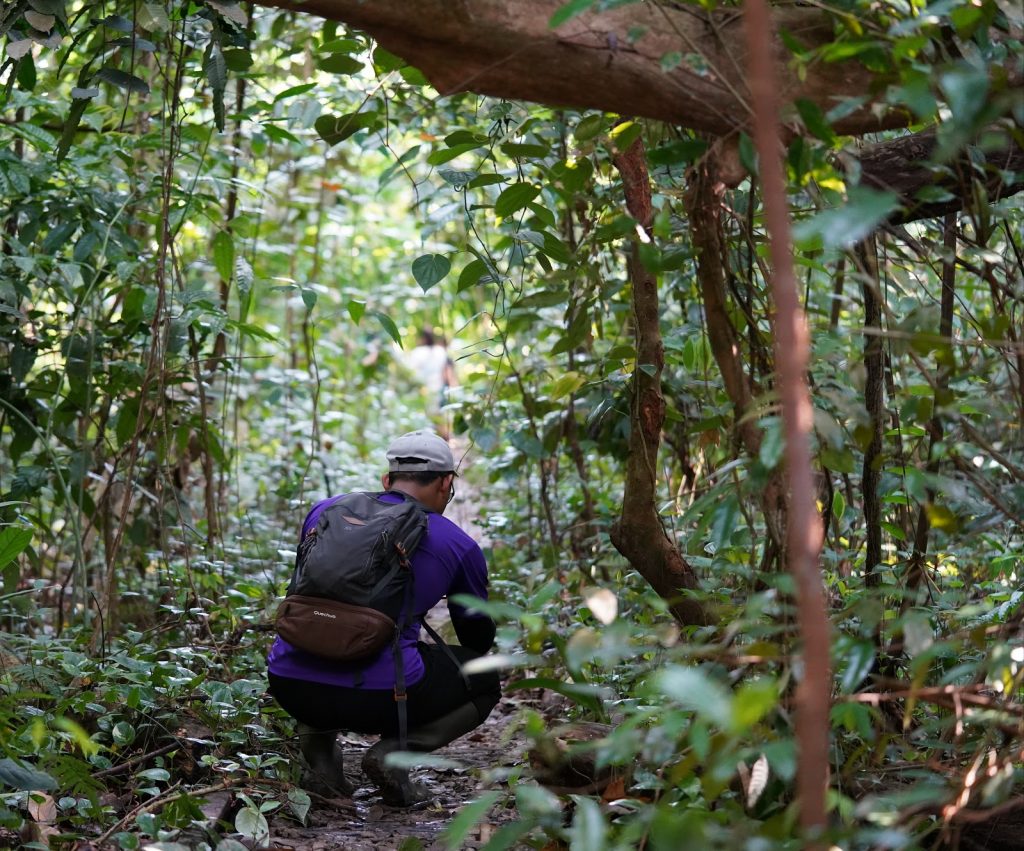 The forest was full of life. There was not a single moment of silence in the forest with birds chirping away, insects calling, and oh wait – the noise of us intruders exploring. Where in other nature parks we could easily hear ourselves, in Clementi Forest, the sound of nature easily overpowered us human-noise-generators. There were many times when we found ourselves stopping because of how rampageous the bird and insect calls were; left and right, up and down, it was almost as if they were screaming out to us, alerting us to their presence and perhaps telling us that this was their home.
Being relatively new to wildlife identification and nature photography, I did all I could to soak in the sights and snap as many pictures, in hopes I could share my finds, and that others could help with identifying the residents of Clementi Forest.  
So, what have we found?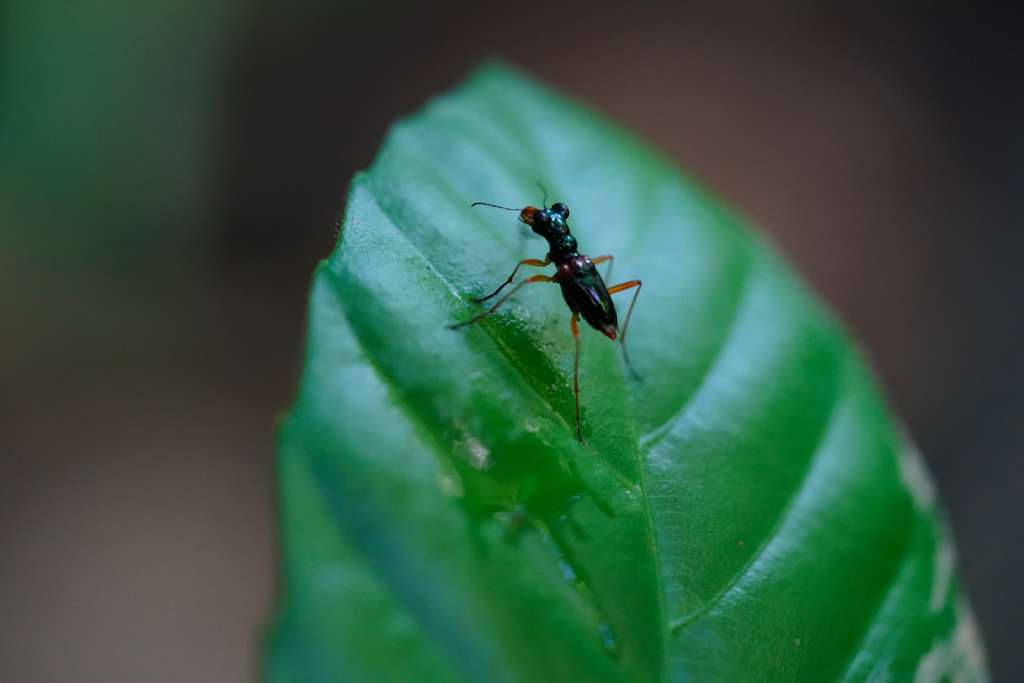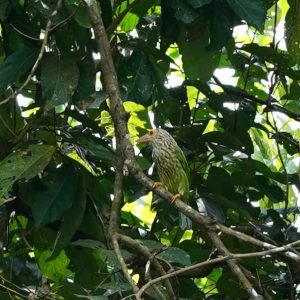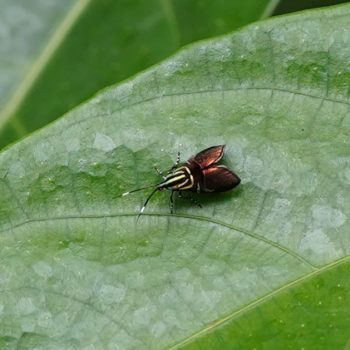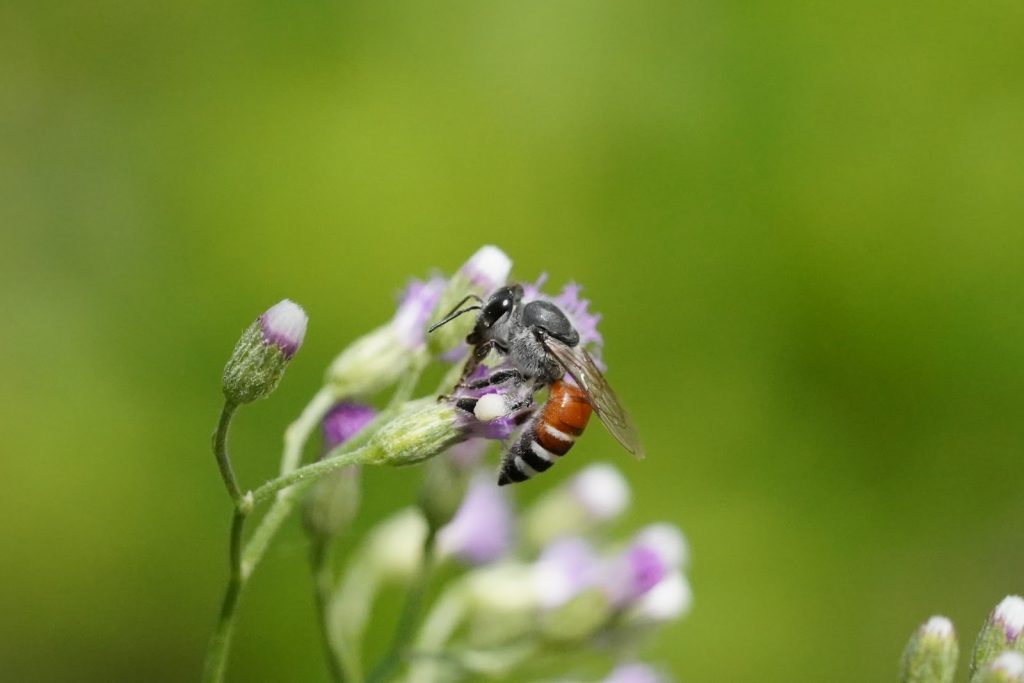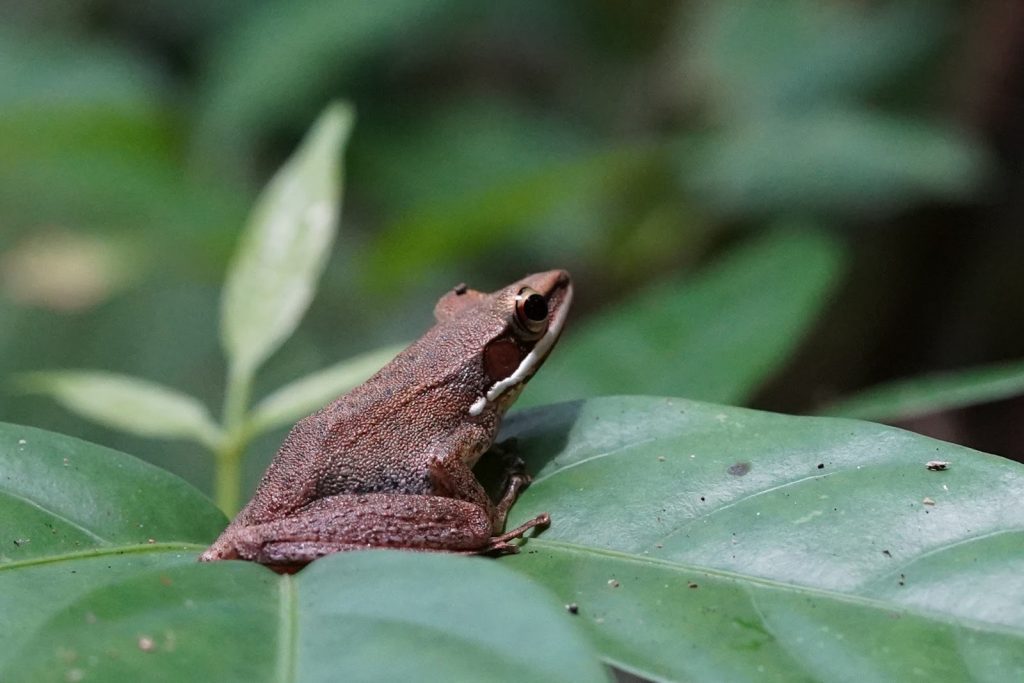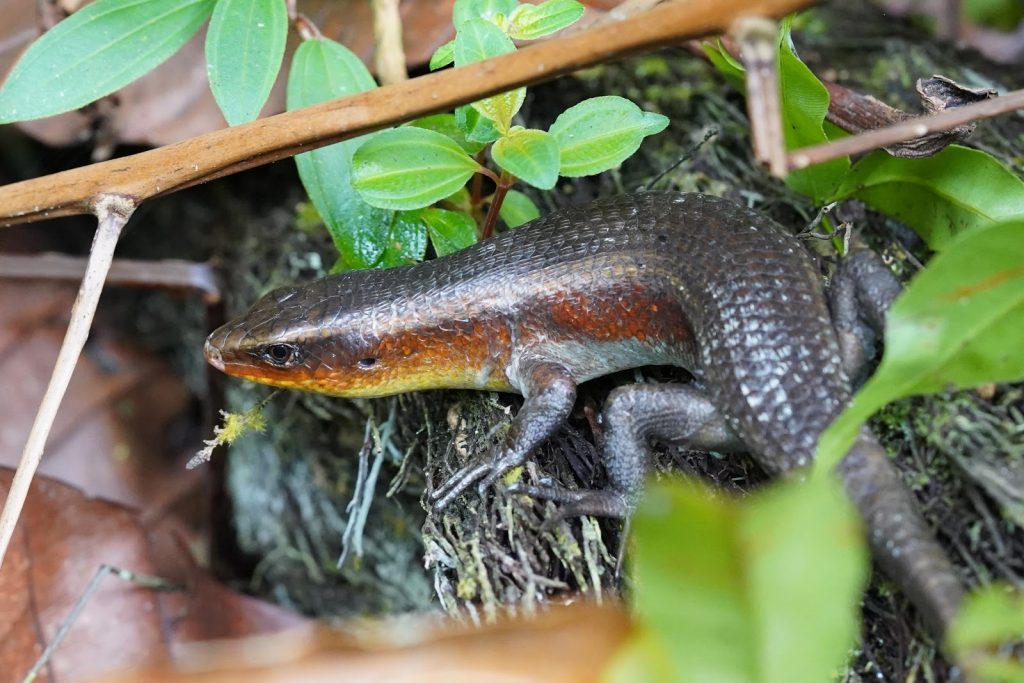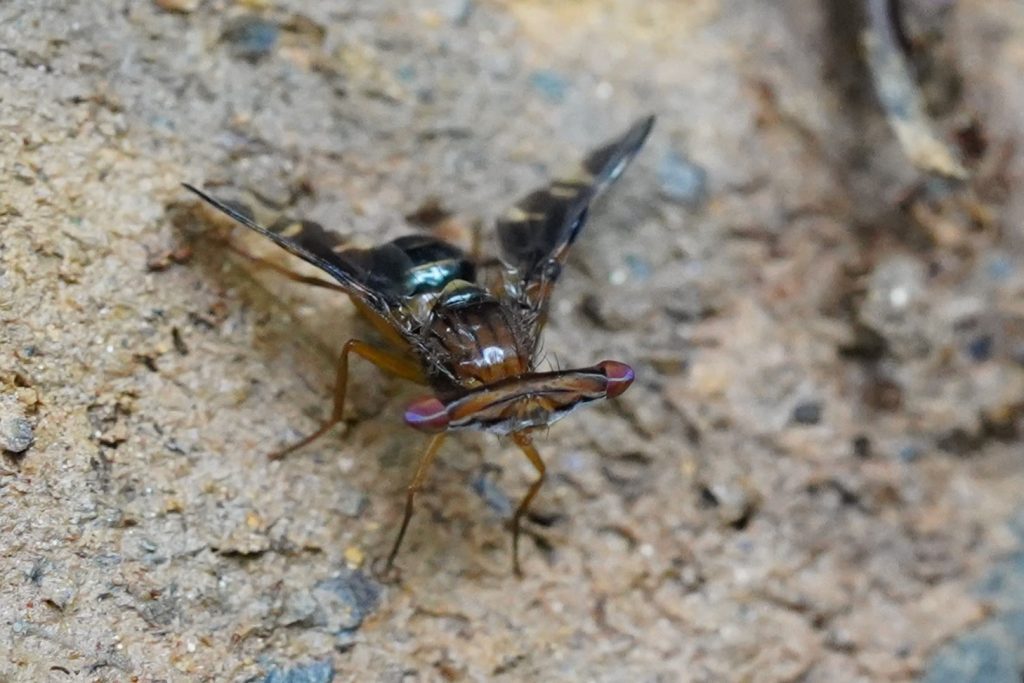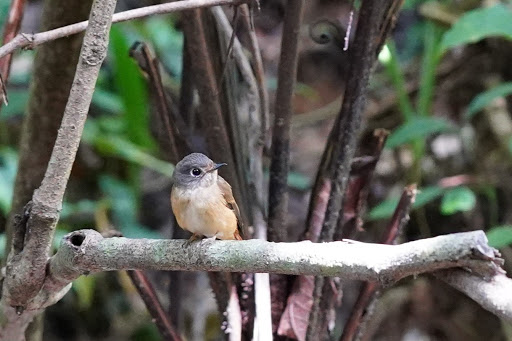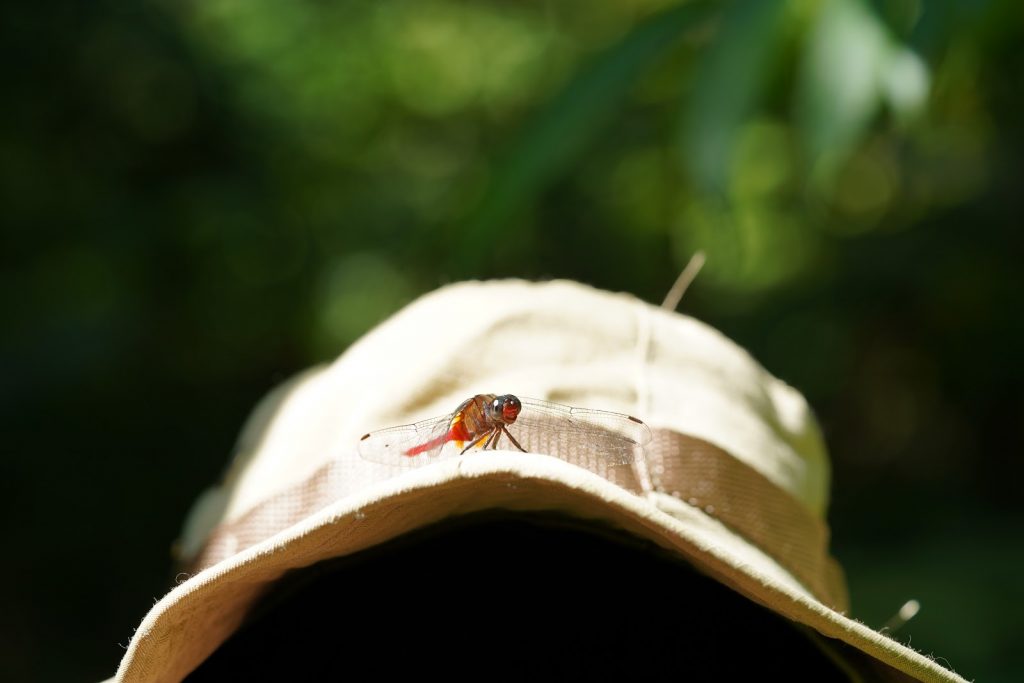 We met a Ferruginous Flycatcher which is an uncommon migrant bird in Singapore and the critically endangered Straw-headed bulbul. I also had my first encounter with the lineated barbet. We met a few frogs; and for reptiles, a friendly common sun skink, and a few monitor lizards. The most challenging of all was the insect category – they were hard to identify and even harder to "capture" with our man-made cameras… Dragonflies, grasshoppers, crickets, interesting flies, and wasps were everywhere. One or two bees even stalked us to have a sip of our delicious sweat – a delicacy for these critters unaccustomed to having humans around. There were just so many creatures in Clementi Forest; research published in 2012 found 98 species of vascular plants. There are also other surveys by the Nature Society of Singapore, recording 90 bird species and 61 species of butterflies. 
Those are just the tip of the 'canopy'.  It is easy to conclude that Clementi Forest is home to many creatures. If Clementi Forest were to be gone, the majority of them do not have the luxury of migrating to other viable habitats. It is just heartbreaking to think about the possible devastating future of these creatures. Like I said, I consider them residents of Clementi Forest. What would it be like to lose your home?
This 85ha secondary forest is our country's second-largest patch of wildlife habitat but it remains unprotected and has even been demarcated for residential development. Clementi Forest also serves as a connection to Holland Green Linear Park and Maju forest which are both linked to other green areas as well. It is important for green spaces to be connected as habitat fragmentation disrupts species diversity. 
Amid the multitude of discussions surrounding the conversion of Clementi Forest, URA did mention that any development plans regarding Clementi Forest would involve the necessary studies, and biodiversity in the area would be taken into consideration to minimize impacts on the environment. It is, unfortunately, a mounting task to balance development and environmental conservation, especially in land-scarce Singapore. 
The need for development is evidently seen in the demand for space for our growing population. However, the benefits of environmental conservation cannot be as easily measured. Compared to other countries, environmental impact studies for new developments are not mandatory, although it was recently announced that there will be some semblance of standardization for measuring the impacts of biodiversity in these studies.
Without demand from our population, and voices from our community, the planning authorities are not able to fully understand the importance and public desire for environmental conservation.
One way we can help to show our support in conserving this precious habitat is to sign a petition that aims to protect the forest from urbanization by elevating its status to that of a nature park. Although that brings about another set of problems to the forest, for now, this seems to be the best option for our tiny country to preserve the homes of the Clementi Forest residents. 
This will both conserve the area while opening it up to more Singaporeans for recreational purposes, so that you may also meet the residents of Clementi Forest, as I have. 
The link to the petition: http://chng.it/zyXmzCXKdx
The petition requires just a name typed in. For those who would like to do more, the petition also includes a share function. You have the agency to protect something precious to not just us, but also to many more whose voices we can't hear. 
This article is not paid by the petition 🙂 
Let us share and care for our nature neighbours.