Filling in the "Void" in Void Decks
When I was staying with my grandparents and my brother in kindergarten, I would always play at the void deck with my grandfather and my brother. That was always the best time of the day! We would bring water guns to shoot at each other and my grandfather would teach us how to play badminton. Now, even though I do not live there anymore, the memories always flood back when I walk past that space. 
Did you know: Void decks were not always used for the purpose it is used for today. They were actually sheltering for children to use on rainy days!
Here is a quick history lesson of void decks (it will not be long trust me!). The idea of void decks as a communal space for residents to interact as well as hold events, functions and funeral rites were only introduced in the 1970s. At that point, there was the introduction of basic amenities like letter boxes and bicycle racks, and during the 1980s, recreational facilities were also introduced.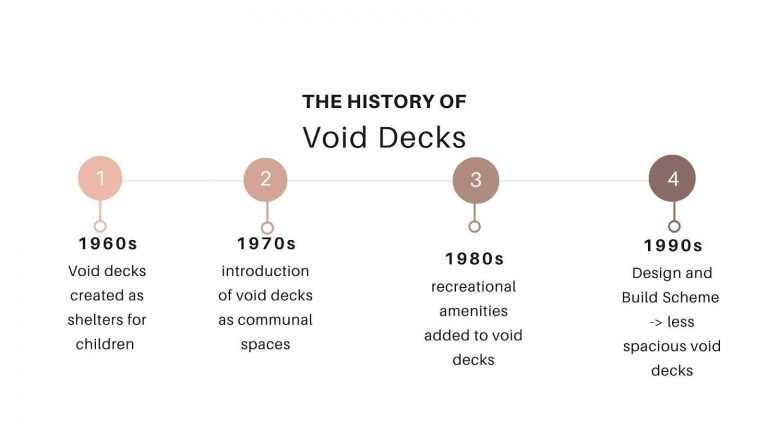 In the 1990s however, the implementation of the Design and Build scheme by HDB brought in more complex and less spacious void deck layouts. Did this really add value to the common spaces in HDBs? 
To see what the people think about this, I looked to a 2017 Straits Times Article. According to the article, residents in Sengkang area prefer the new facilities like a café corner. On the other hand, others in the Kallang and Toa Payoh areas remember fondly of playing soccer with friends in the large, spacious void decks, sitting and talking to neighbours at the void decks. We can see the differences in responses among residents, but let us take a closer look at this.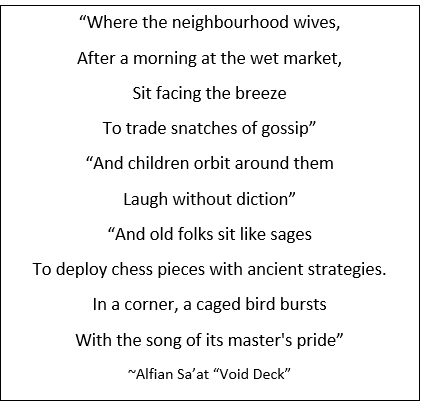 The void decks that we imagine is akin to the first part of Alfian Sa'at's poem, "Void Deck". There used to be liveliness and vibrance when we walk into any void deck, regardless of the time. We filled the "void" of the void deck, with laughter and life. 
The void deck has become an inherent background of the many memories we have as Singaporeans, it is the place where we have created to be our own. It is a space where we have agency, where we can be independent in choosing what we use the empty void deck for. We create our own games to play in the void deck as kids, elderly gather at the seats to chat and gossip. This was the space where people, like children who do not have people to interact with at home, and elderly who live alone, seek refuge to find social interaction with neighbours. The void deck became a place where the lonely do not become alone anymore. This is how we have the freedom to bring life into the void deck and make this place our own, as a space unique to Singaporeans. 
The void deck can also be seen as the foundational step for Singaporeans to be introduced to different cultures and traditions. We live in HDB flats with people of different races because of the ethnicity quota from the Ethnic Integration Policy rolled out since 1989. With communal spaces like the void deck, it creates a space for interactions between ethnicities since a young age, starting the build-up of multiculturalism in a small communal setting. This eventually contributes to the state narrative that is proud of our multicultural nature that we build from that small kampung-like area.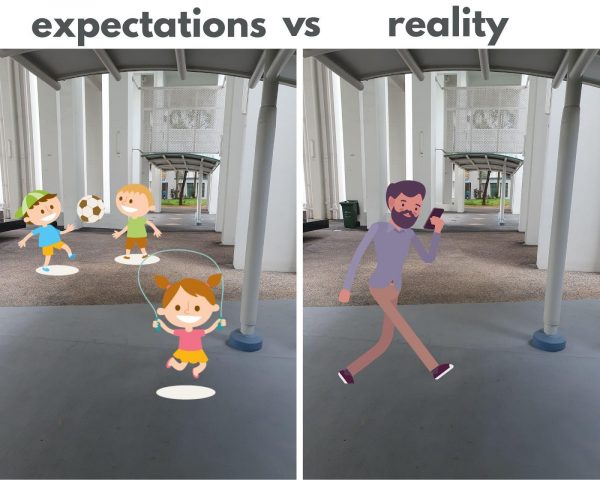 However, it is "all a wanton fantasy". Now with all the other distractions in life, and the fast-paced lifestyle we have, we tend to ignore, or treat the void deck just as a place we pass by on our way to school or work.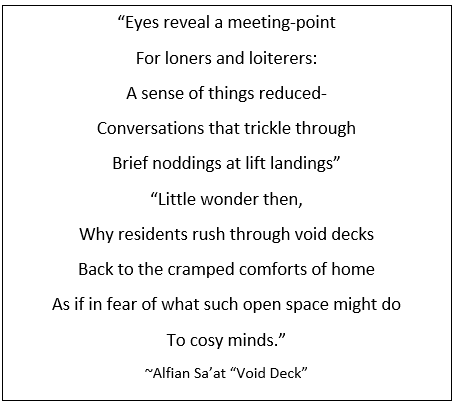 The second half of Alfian Sa'at's poem laments how we do not spend time like we used to at void decks, simply passing by it while commuting. Even before the pandemic, the elderly aunties and uncles who used to play chess or chit chat at the void decks are there no more. The Kampong spirit that was once representative of the Singaporean spirit, has gradually disappeared, with neighbours not speaking to each other. Instead, just polite nodding or a small wave of their hands. 
During this pandemic, it has been a toll especially for the elderly whose way of social interaction is through talking to friends at the void deck. They are unable to sit at the void deck and have gossip sessions anymore with authorities encouraging the elderly to stay home for their safety during the pandemic. They cannot enjoy the simple recreational activities that we enjoy like texting friends or watching television because of their many obstacles with technology. Many of them sit around at home, doing nothing during the circuit breaker, watching time pass. 
Sadly, we once again have that empty "void" in the void decks.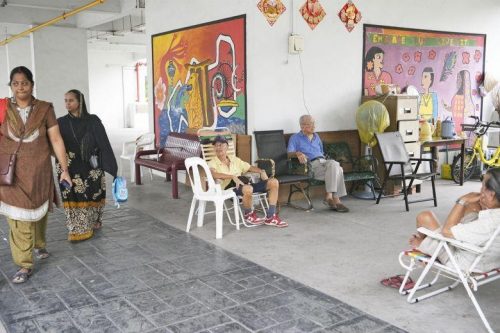 However, there are many people that are trying to do their part to bring back the liveliness of void decks through void deck initiatives. It may start as simple as putting old furniture at the void deck for people to sit and talk, like in the void deck of Clementi West Street 1 (image above). Also, larger hangout sessions in the mornings for the residents to interact and lim kopi (drink coffee) at North East CDC. These void deck initiatives show how the common folk are taking part in creative placemaking, where there is participatory planning by the residents to reinstate the vitality in void decks, to creatively bring back character to the place.  
We tend to forget how significant the void deck is to our memories as a Singaporean. Even though it is something close to us, physically and in our hearts, it is mostly in the back of our minds when we think of what represents us as Singaporeans. It is merely a memory we all share as people who live in Singapore. Hence, I would like to challenge you, to bring back the liveliness in void decks like these initiatives are doing. Let's visit our void decks once more, to look around and discover what we missed when we walk by it each day. Tell stories to your friends or post #throwbackthursdays posts about your times as a kid running around playing catching at the void deck. Talk to your neighbours on your way home about their day and get to know them, bringing back the Kampung spirit! Let's fill in the "void" in void decks again!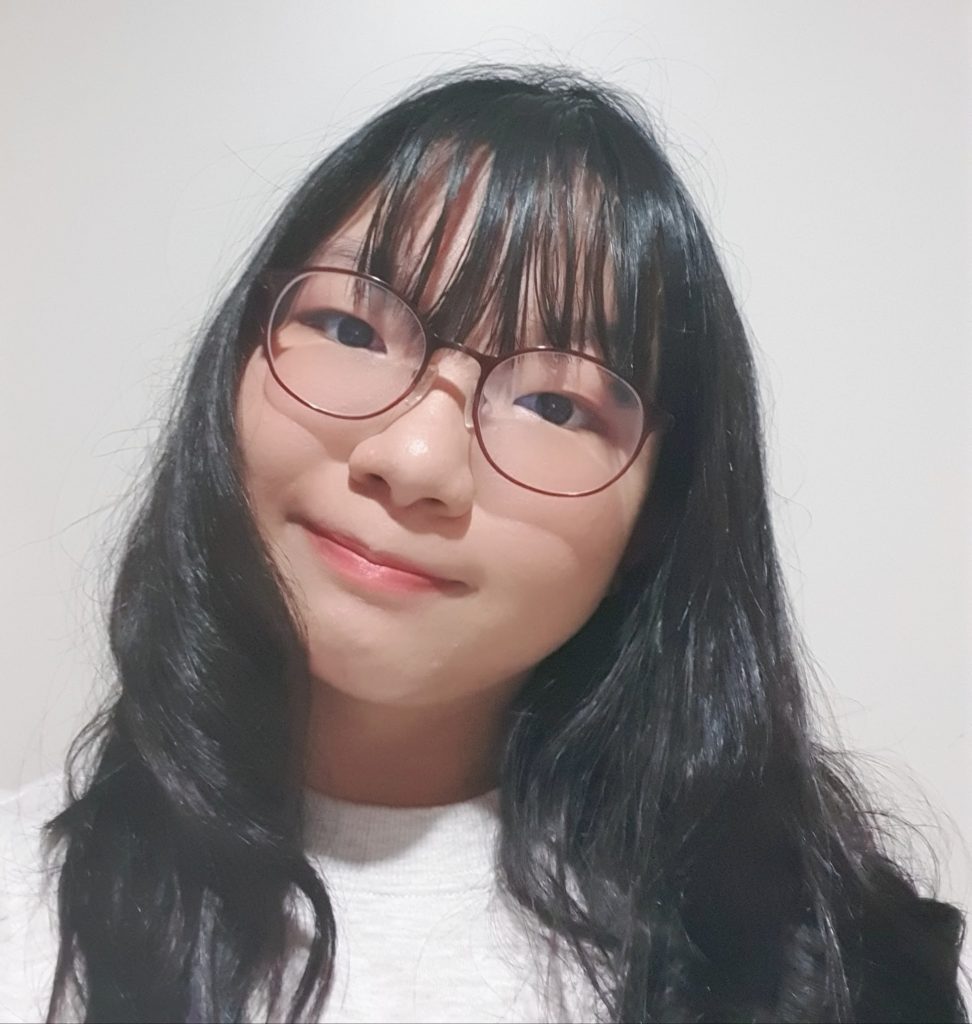 About the Author:
Hi everyone, I'm Gladys, a JC1 student from Victoria Junior College! I really love music, dance, everything old school and looking back at memories of my childhood! This is why I chose to write about void decks, the space that we all remember fondly, yet faintly.