Workplace discrimination against minorities, and what we can do about it
Written by Kshamika, Alicia, Yueting
In recent years, there has been a rise in minority groups indicating in studies that they felt discriminated against when applying for jobs or seeking a promotion. This can be seen from a study of racial and religious harmony in Singapore where almost 60% of Malays and 56% of Indians are said to perceive discriminatory treatment at work. According to the latest Institute of Policy Studies OnePeople.sg survey on racial and religious harmony, this was a slight increase from the 58.7% of Malays and 52.6% of Indians five years ago. (Ho, 2019) To further cement this pattern, we have also referred to the fact that there are more people speaking up about their unpleasant experiences on social media platforms. 
Several instances of workplace discrimination includes employers citing race as a requirement in job advertisements, or making inappropriate remarks during interviews. Many employers will also quoted that they prefer 'Chinese speaking people' causing much dismantle in the workforce. (Dorai, 2020) This results in a lack of opportunities for the minority race groups regardless of whether the opportunity was pertaining to a promotion of the securing of a new job. Despite the constant push by several government agencies to tackle the issue ensuring harmonious social relations at the workplace, a vast demographic of employers still treat their employees differently based on their race. (Ho, 2019) 
Efforts by the Singapore government includes the start up of groups like the Tripartite Alliance for Fair and Progressive Employment Practices (TAFEP) and platforms such as the Inter-Racial and Religious Confidence Circles (IRCC) and the National Integration Council. These organisations are implemented to help build strong bonds at different levels of society and to look into allegations of workplace discrimination, working with employers who don't comply with guidelines to rectify their practices. (Lai, 2018) In addition, Singapore has also signed the ICERD in 2015 and submitted their first anti-discriminatory report in late 2018. (Loh, 2018) 
Even though there have definitely been more extensive efforts to rid racial discrimination over the years, it is still insufficient. This issue of inequality is extremely prevalent in our society and should continuously be heavily addressed. Although eradicating all forms of racism and racial is unfeasible, discrimination should not acceptable in our multi-racial and multi-religious society. More can be done to push for a society where every party strives to eliminate all forms of racial discrimination and to protect opportunities for the minorities which are likely to evaporate. 
Everyone in this country deserves an equal opportunity despite the colour of their skin, family background, religion etc. Not only is racial discrimination not desirable from a justice point of view, but it can also be detrimental to the company's business. Here are some reasons why having a racially diverse workplace can actually benefit an organisation and here are some steps they can take to become a more inclusive, diverse community. 
Benefits: 
Having a diverse workplace will result in more opinions and perspectives

 The company will be able to reach out to a wider audience

Other companies that see this inclusiveness and diversity will be more inclined to

work with them thus creating more professional connections

Builds a newfound sense of unity

Will be able to make more global connections thus having a worldwide reach

Help the company better serve a wider variety customers and clients 
Steps/policies a company in Singapore can implement: 
Implement an anti-discrimination policy which should be enforced and strictly

followed. Staff should know that it is to be taken seriously.

Conduct training programmes for staff to learn how to respect and treat people from

different walks of life and educate all staff on what constitutes as racial discrimination be it casual or not

Staff should have open communication channels to allow them to freely voice out

their opinions if they feel like they are being discriminated against. 
Here are some stories from people in our society who have received first-hand racial discrimination in the workplace which can be found on instagram: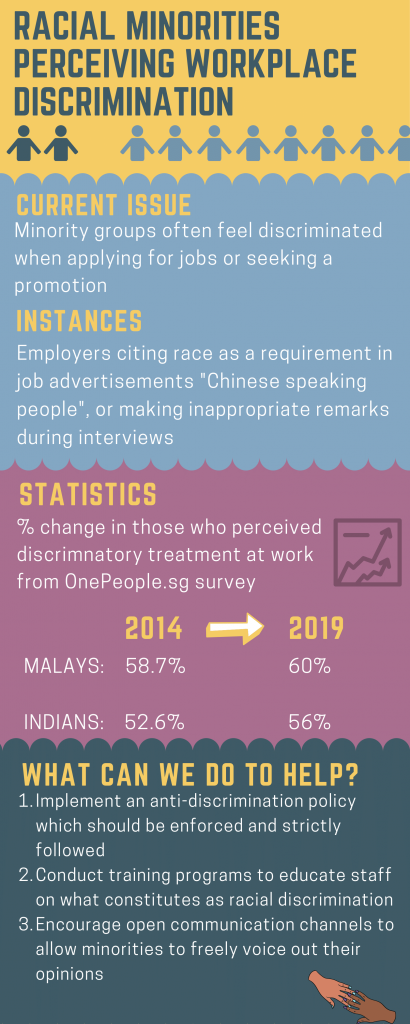 Bibliography: 
How to Prevent Racial Discrimination in the Workplace | Make It Our Business. Makeitourbusiness.ca. (2020). Retrieved 20 July 2020, from http://makeitourbusiness.ca/blog/how-prevent-racial-discrimination-workplace. 
Kurter, H. (2020). 4 Ways You Can Tackle Racial Discrimination In Your Workplace. Forbes. Retrieved 20 July 2020, from https://www.forbes.com/sites/heidilynnekurter/2020/06/09/4-ways-you-can-tackle-racial-discrimination- in-your-workplace/#7d7fc1d56040. 
HO, G., 2020. Slight Increase In Racial Minorities Perceiving Workplace Discrimination: IPS-Onepeople.Sg Survey. [online] The Straits Times, from https://www.straitstimes.com/singapore/slight-increase-in-racial-minorities-perceiving-workplac e-discrimination-ips-survey 
CNA. 2020. Complaints About Language Discrimination In Job Applications On Downtrend: TAFEP. from https://www.channelnewsasia.com/news/singapore/race-discrimination-job-applications-langua ge-tafep-11913184 
LAI. LINETTE 2019. Singapore submits first report on ICERD, the convention to eliminate racial discrimination. https://www.straitstimes.com/singapore/singapore-submits-first-report-on-icerd-the-convention-to -eliminate-racial-discrimination 
Singapore submits first report on UN convention against racial discrimination. CNA. (2020). Retrieved 20 July 2020, from https://www.channelnewsasia.com/news/singapore/icerd-racial-discrimination-united-nations-si ngapore-11066828.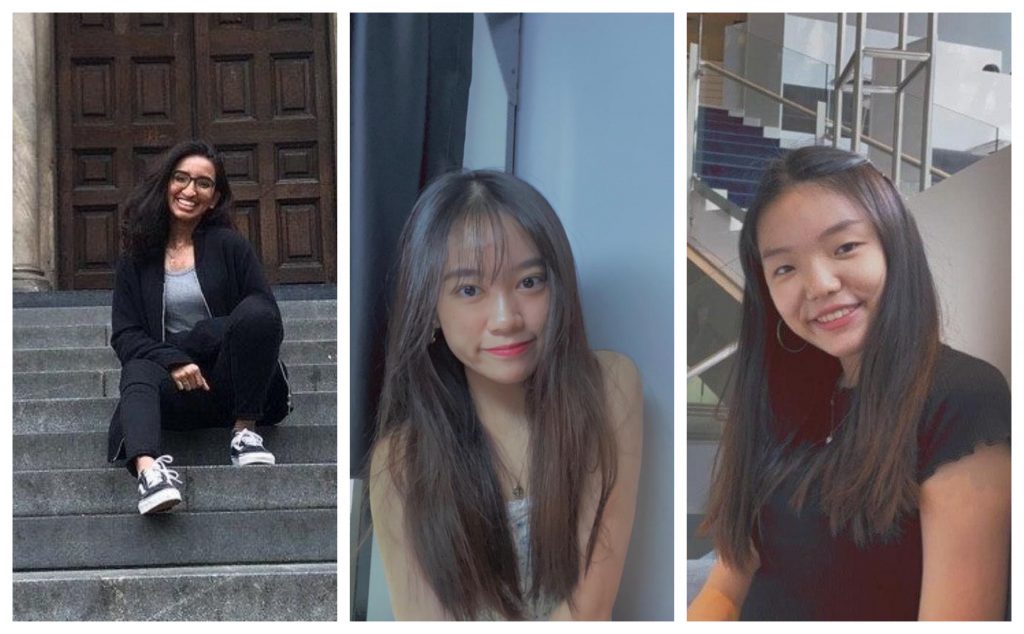 About the Authors:
We are 3 friends, Alicia, Kshamika and Yueting from Temasek Polytechnic. We are currently in our 3rd year studying Law and Management. We are a noisy bunch who love eating mala and drinking bubble tea together 🙂