An Ordinary Singaporean's Rail Wish List
So the Land Transport Authority dropped the Land Transport Master Plan (LTMP) 2040 over the weekend. Amongst the various details, the most exciting developments were in the new MRT stations and lines planned for 2030 onwards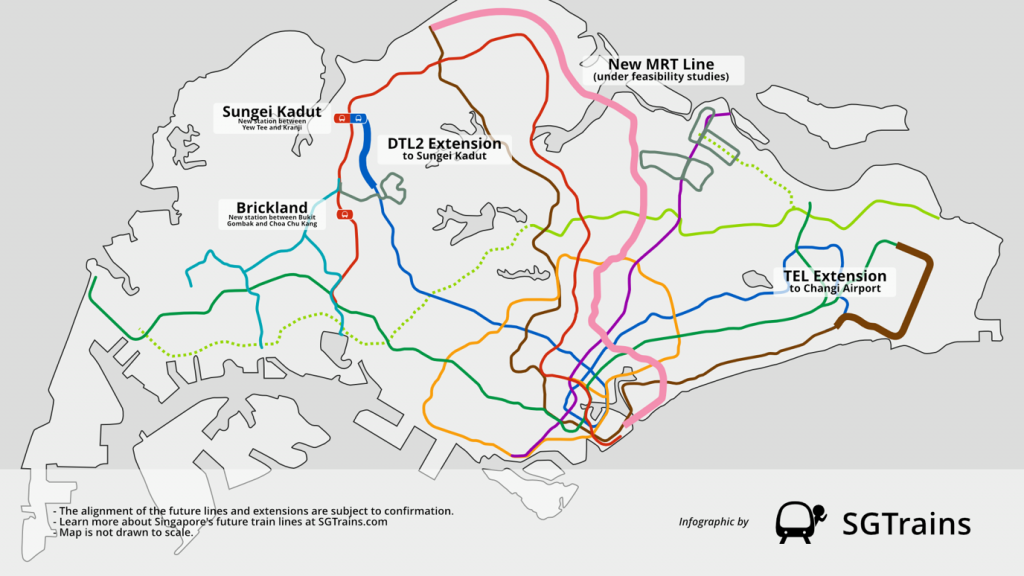 Disclaimer – I was writing a series of pieces which would have called for some of the above additions. For example, the Sungei Kadut extension to the Downtown Line (DTL), which would give the DTL an interchange with the North-South Line (NSL) in the northwest, and the long-awaited Thomson-East Coast Line (TEL) extension to Changi Airport (and hopefully, to Terminal 5 in the future), which would restore a regular rail link between the city and the airport – when the Changi Airport branch of the East West Line (EWL) opened in 2002, trains originally alternately terminated at Changi Airport and Pasir Ris stations – but this was discontinued a year later in favour of a truncated service to Tanah Merah.
However, there are things still missing from this map – and imagining I had my own personal genie to grant me three wishes, here's how I'd use them: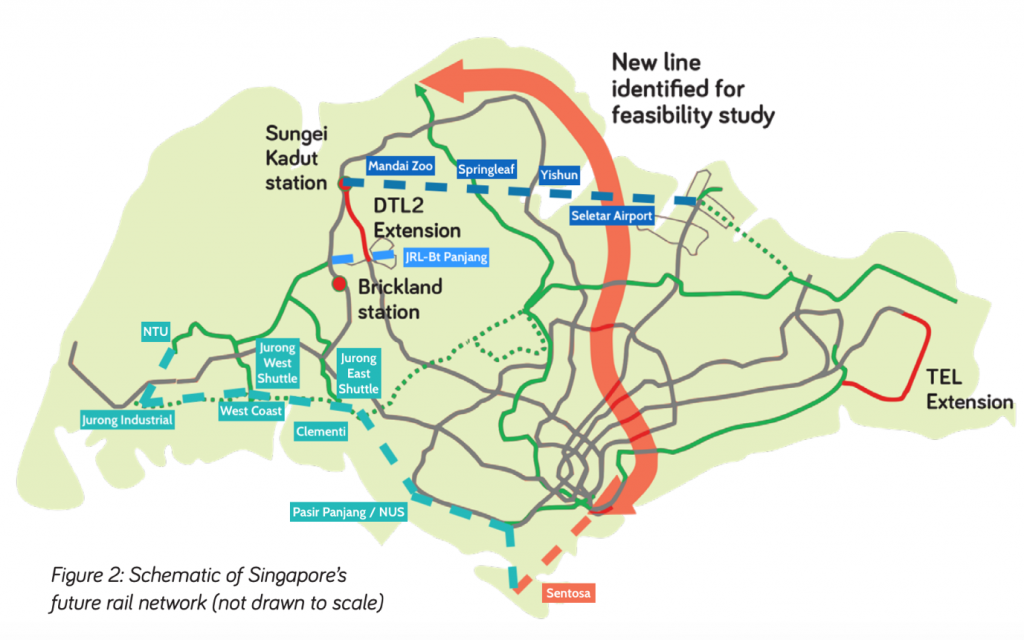 The current state of play revolves around originally planned alignment, and the Southern Alternative, which would require 9km extra track and cost S$2 billion. It is also estimated that the Southern Alternative would require trains an extra 6 minutes to traverse as opposed to the planned alignment. Extra land acquisition could also be needed.
With all due respect to all sides, it's probably time to take a step back and consider what the purpose of the Cross Island Line is. A quick look at LTA's website points to two main purposes:
(1)   To create an alternative east-west rail connection to relieve the East-West Line, thus providing a faster commute between the east and the west.
(2)   To connect all existing radial MRT lines
Re-enter The Northern Alternative.
While reading the NSS position paper, it occurred to me that if the Northern Alternative was extended further, it could serve the Zoo and connect to the planned northern branch of the Cross Island Line
Wish 2: Tangela attacks: The Jurong Region Line(s)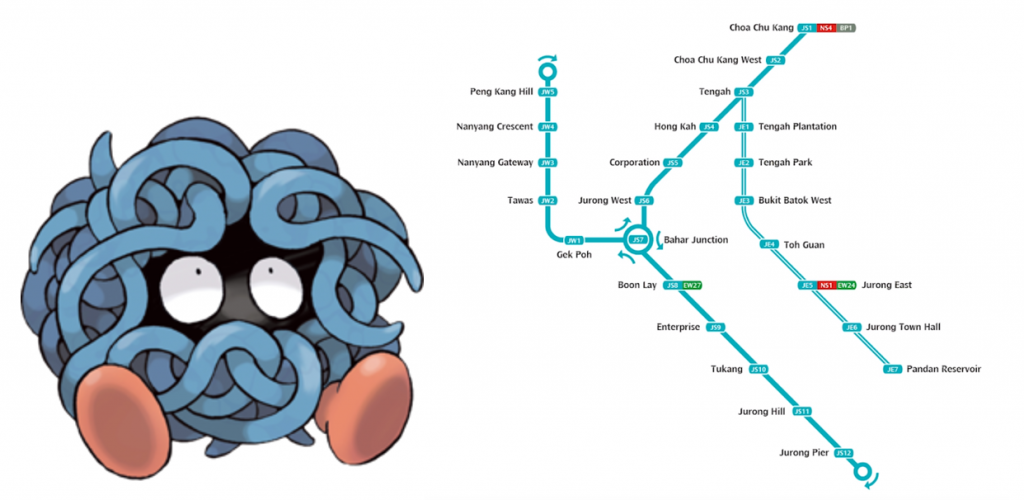 First, two questions:
(1)          What's with the three-legged route between Choa Chu Kang, Jurong Pier, and Peng Kang Hill? Local residents and NTU students are baffled by the service pattern. This might have been to attempt to even out services amongst the three limbs. But this is rather counterintuitive from the station numbering, with a JS spine between Choa Chu Kang and Jurong Pier; the JW limb to Peng Kang Hill; and the JE limb to Pandan Reservoir. It might have been easier had they been shown (in their own colours) and operated as three different lines.
(2)      From what NTU students have said so far, their priority is to get to Boon Lay station (presumably to go to Jurong Point, or the Boon Lay bus interchange). Why make them change at Bahar Junction to take another train to go one stop to Boon Lay?
My wish is simple.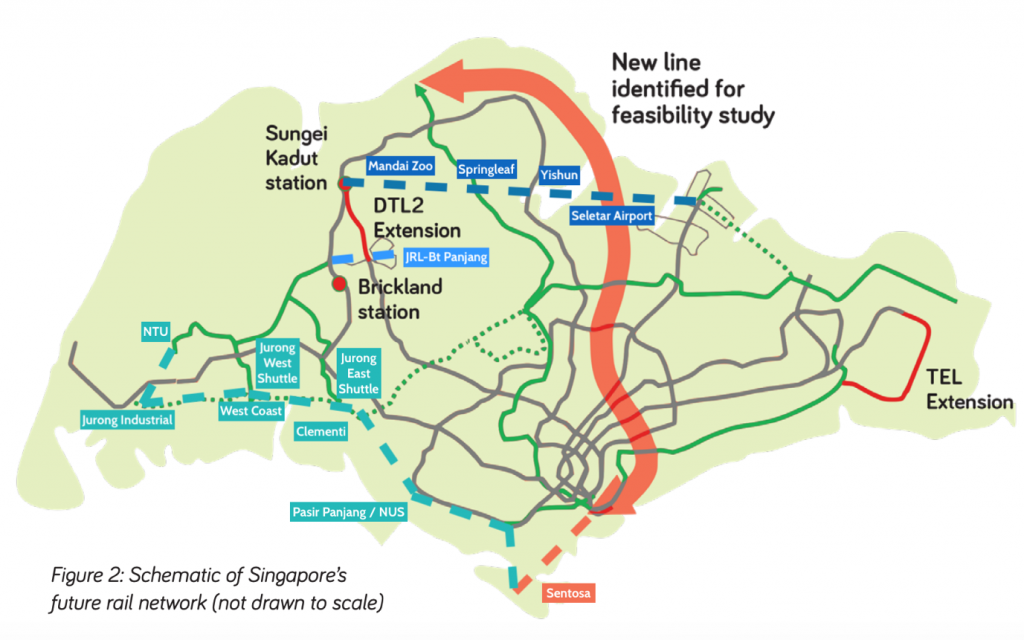 Make the Choa Chu Kang-NTU/Peng Kang Hill the main service, and while at it, why not extend this line to take over the "masochistic", "dizziness"-inducing "roller-coaster" known as the Bukit Panjang LRT with an MRT line? Then extend this to the Jurong industrial area, and take over the Cross Island Line's planned western leg to West Coast and Clementi, add a new station for NUS at the southern end (at Heng Mui Keng) (if NTU can get three stations – Nanyang Gateway, Nanyang Crescent, and Peng Kang Hill, surely NUS can get a second one after Kent Ridge), before running to Harbourfront and Sentosa (So Expensive & Nothing To See Anyway? – can't be helped when entry to Sentosa via the Sentosa Express is $4 per entry – and this would be popular with all the NTU and NUS students doing their orientation / matriculation games at Sentosa anyway).
The JW and JE branches would then become shuttles off the main line. (One day, their suitor will come, like the TEL arrived for the Changi Airport extension. Maybe.)
Wait, you ask. This is far outside Jurong now, so how is this the Jurong Region Line? Well, I'd rename it the Varsity Line, since it connects NUS and NTU. QED!
Wish 3: New north-south line – what to do and what to avoid
OK, gonna cheat here, because this is technically two wishes in one. But the new line should at least link up the Causeway, Seletar Airport, Marina Bay financial centre, and Sentosa, so it can really relieve pressure on the NSL. 
On the other hand, can LTA please proactively consult NSS before drawing the line on the map? I'm no expert on this, but early and proactive consultations with green groups will allow everyone to understand the planned line, where it should and should not go, and avoid more complications down the line, like the Cross Island Line.
(Hint: NSS pointed to Simpang and Khatib Bongsu as mangrove areas which could be possible nature parks in their Feedback on the URA Master Plan 2013. Roughly  half of Singapore's 376 bird species have been spotted in this area alone, and 13 of them are endangered. And mangroves serve as important natural coastal defences against climate-change induced sea level rise.)