The inaugural session of Accommodate was held on the 16th July 2017 at the Red Box, with the kind support of venue partner Youth Corps Singapore. 
More than 70 sign-ups were received, with an estimated attendance of more than 50 participants, most of which were youths aged between 16 to 25.
Part 1: Land-Use Planning Game Simulation
20 participants participated in the first segment, where they were invited to step into the roles of Ministry Planning officers to discuss how to redevelop 8 existing plots of land. They considered their individual ministry's goals and the impacts of what they choose to do on Singapore's various indicators of sustainability.
Their goal was to improve their own Ministry's particular indicator, while not compromising that of others. After two rounds of bidding and development, the five ministries all managed to improve their indicators. This was because they understood the need to balance between various needs, and thus communicated with each other and worked towards a common goal.
During the debrief, participants shared that they learnt more about the difficulties of balancing the different developmental needs of Singapore.
Although they managed to improve all the indicators, it was also expressed that this is not necessarily what always happens in reality, with trade-offs often made.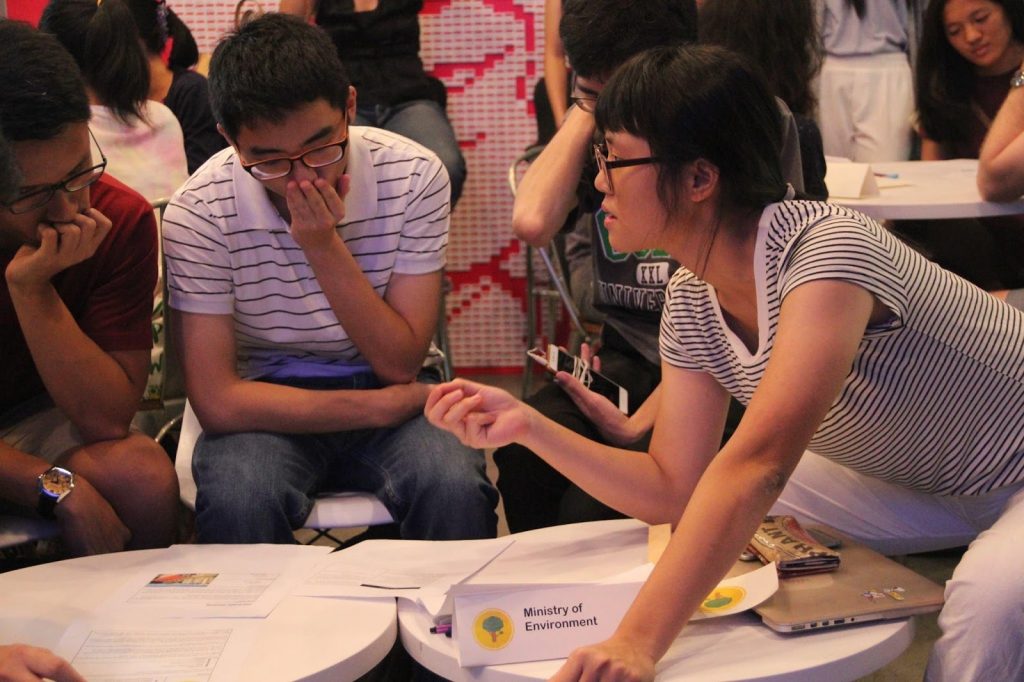 Part 2: Panel Discussion on Conserving Spaces in Singapore from the Ground Up
The panel discussion featured four speakers, each with experience in conserving particular spaces in Singapore. The panel discussion was moderated by Cheryl Lee, a youth environmentalist.
Cai Yinzhou from Geylang Adventures and Dakota Adventures shared about helping people experience places by immersing themselves in the area, and working closely with those who inhabit the place to define the space. 
Lester Tan from Nature Society Singapore shared about the relevance and importance of mangrove habitats in Singapore, and encouraged the audience to connect more with nature.
Woon Tien Wei, an artist-curator from Post-Museum shared about his work conserving Bukit Brown through public art installations and indexing. He also spoke of the importance of civil participation in the city. 
Faiz Bin Zohri, a landscape architect shared about how common spaces should be owned by the people, and his work in conserving Sungei Road Market as the last free-hawking zone in Singapore through submitting proposals to the relevant authorities.
The speakers discussed the importance of being active in influencing spaces in Singapore, and gathering people from all walks of life to become part of the conversation when it comes to land use and conservation. 
Questions raised from the floor include what youths can do, and the speakers responded with calls to action, in whichever place they feel strongly about. Faiz also mentioned the need for citizen committees to look into conservation of places in Singapore, something observed in other mature cities such as New York.